If you're looking for new climbing areas to discover and conquer, look no further. East Crete is the new ultimate paradise for cIimbers and all sports enthusiasts. It has a huge potential to become the biggest and the best climbing area in Crete thanks to its' many big and vast canyons with a nice quality rock. In the last 3 years, we made about 100 climbing routes in 6 canyons surrounding Zakros, Kato Zakros, and Xerokampos and 16 more at the beach cliffs. You can see the new climbing areas of the east Crete here.
Canyons with potential to be the best new climbing areas in the east Crete
There are many more canyons with big climbing potential around those 3 villages. We continue our work in some of them, but most of the area remains untouched. Here is a list of those with the biggest potential for further development.
1) Lamnoni gorge (Xerokampos canyon)
Lamnoni is the largest canyon of all in the area of Xerokampos. It leads from mountains above Ziros all the way down to Xerokampos. The walls of the canyon head to the south-west and north-east. Thus you can climb there all day long. Some of the walls are up to 200 meters tall and would be great for trad climbing.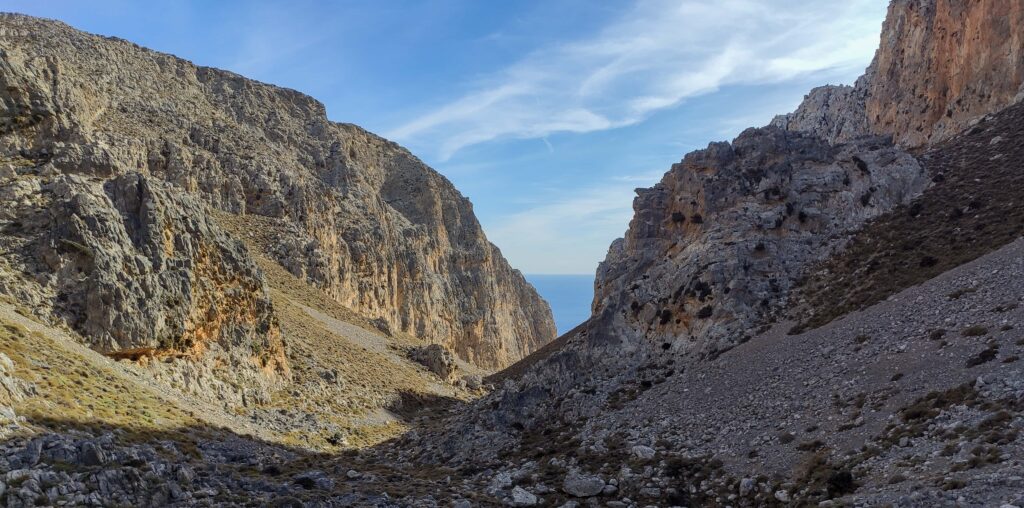 How many routes can be done there? Our estimate is at least 300. Fidži has already bolted 12 routes in the upper part of the canyon in sectors called Kókkino Vrácho crag and Red rock crag. Some of them are up to 65 meters long multipitches and because we had no time to climb them, they are still waiting for the first ascents. You can see them here.
2) Katsounaki canyon
Katsounaki is a smaller canyon in the north-east part of Xerokampos and is very close to sea. Right at the beginning is a beautiful Krinakia beach. The canyon has a potential to become one of the best new climbing areas in the east Crete.
We started climbing in this canyon in its' side branch, which is about 400 meters long and we have done there some of the best climbing routes around east Crete. This area is for more advanced and athletic climbers, since many of the 18 routes are in beautiful overhangs with tufas that can definitely challenge you. However, the main canyon is two kilometers long and there are also many possibilities for climbing. Althought big part of the main canyon is destroyed from erosion and is not usable for climbing due to the low-quality rock, there are some very interesting quality parts remaining. We estimate the climbing potential for about 60 other pitches in this part of the canyon.
Besides from climbing, the whole canyon is quite narrow and definitely ideal for slacklining. The possibilities to set up lines there are endless. We'd be glad if someone would come to try this.
3) Vigla canyon
Vigla is another huge canyon in the east Crete. It lays about one kilometer north-west of Zakros village. Since the canyon is more far from sea than the others, the quality of rock is very good and the potential for climbing is outstanding.
We started bolting in Vigla in Summer 2019. Since then we have bolted 13 routes in the sector Central Katalava and another 12 in Right Katalava. Some of them are easier, some harder and challenging. This place is ideal both for beginners and skilled climbers. The harder routes offer very nice technical climbing. You can see them here.
There can be done at least another 20 routes in all parts of Katalava, and another ten around The Cave. As you climb the slope for another 12-15 minutes, you will reach the Vigla crag, which is a dream for routesetters. It has an incredible potential for beautiful climbs. Our estimate is 30-50 routes can be done there.
4) Epano Zakros
Epano Zakros is the canyon right above Zakros village, where the famous Zakros source of water starts and offers an oasis-like place to relax during the hottest days. It is a vast canyon and offers beautiful hikes and walks. However, due to the difficulties with access under the crags, only a tiny part of the canyon is suitable for climbing. Our estimate is 20 routes.
5) Farangulia canyon
Farangulia canyon is a small canyon above the Xerokampos village and is hidden quite well. You probably won't find it unless you know at least the approximate position of the entrance. Distance from parking lot is about 15 minutes of walking to reach it. Its' face is oriented to the north-east, so it is in shade in afternoon. Most of the crag is strongly overhanging, so there is a potential for hard routes. Our estimation is 30 pitches can be done there.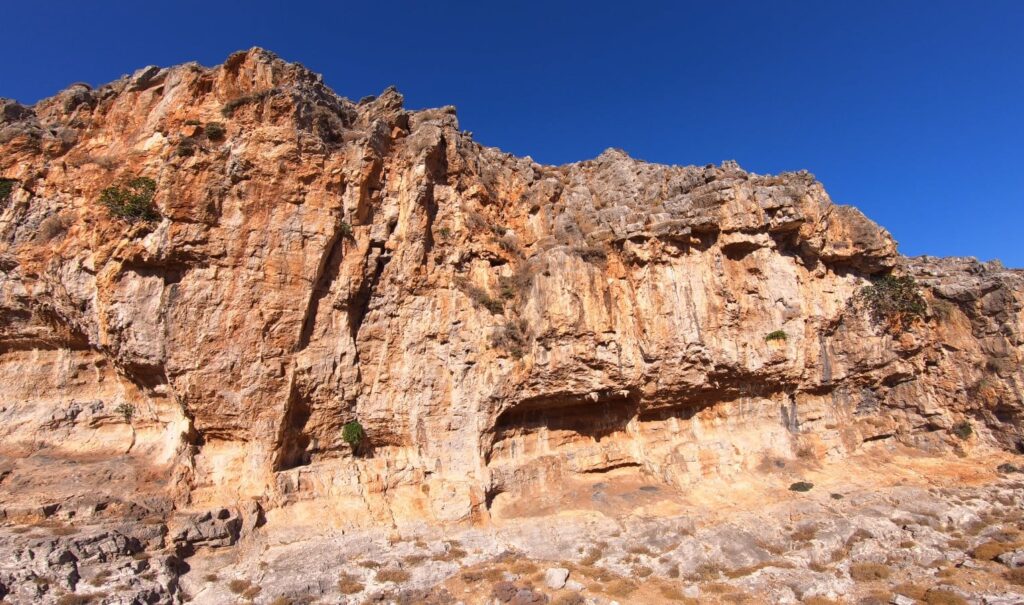 6) Agia Irini
Agia Irini is the southernmost of all canyons in the area. It is secluded, without proper access by a car. You can get there by foot from the Amatou bay in Xerokampos. It will never be a great climbing area full of outstanding routes. It is too small and not tall enough. But it can be a nice area for climbing and swimming in the sea altogether. For Summer trips, for something special that you want to experience on your vacation. You can even take a sea kayak for this trip. Kayaking, bathing, and climbing in one day seems like a dream. Also, the area has the potential for some hard climbs. There is one cave that is perfect for this purpose of making hard routes. We estimate at least twenty routes can be done there.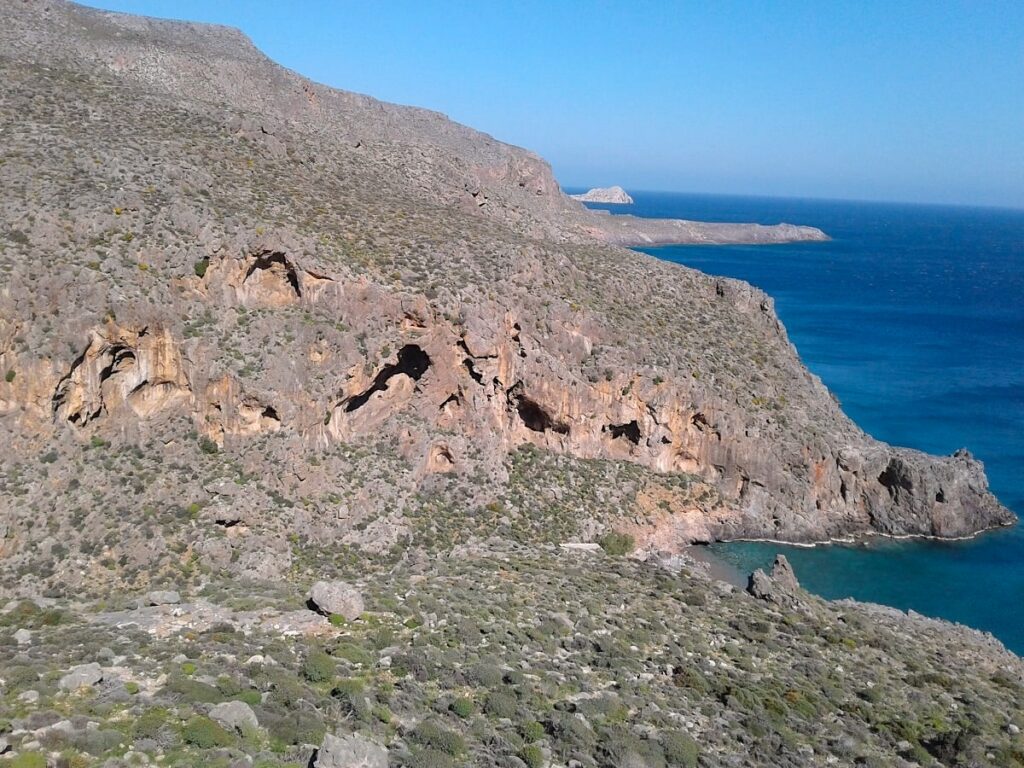 Other areas
There are other canyons, however, we had no time to walk through all of them. They are big and they have a latent climbing potential for sure. These canyons are in the mountains between Zakros and Sitia. I mean Adravastoi, Lagkada canyon and canyons close to Palaikastro village. Also, there are climbing areas outside the canyons, like Itanos crag or Roussa Ekklisia crag.
So, now you know how significant is the potential for new routes in the east Crete. It is huge. Pack your drill and come to east Crete.