Kato Zakros is a small coastal village located 15 kilometres north of Xerokampos. If you're looking for a magical place with unique atmosphere, look no further. This place has it all. There are ancient ruins of a huge Minoan palace (The Palace of Zakros) with significant cultural value, long beaches, wild canyon with a small river and ponds (in Winter) and many tavernas along the coast, which make it a really nice place to spend time in. On top of it, we made 25 climbing routes there.
Climbing in Kato Zakros
The climbing area is located around The Cave above the village and is only about 5 minutes of walking and also about 500 meters from the remnants of Zakros palace. We started to bolt the first climbing routes in July 2019 with our original intention to make a bunch of accessible climbing routes in the vicinity of beaches and tavernas. We believe that a combination of an easy climbing area which is close to beaches and food would be appreciated by many recreational climbers and their families, as we were also dealing with a problem when only a part of the group wants to climb and other part wants to stay at the beach.
There you can combine both climbing and spending time on the beach. When you get hungry, you just go to grab some food, you meet each other in one of the tavernas having a delicious lunch or dinner and then you can be back at the crag in no time. So you can climb while the other part of your family or friends is on the beach. You can choose between the more crowded main beach or to go to one of the small beaches that lie next to the main beach. They are also closer to the climbing. I believe that we have succeeded in our intentions. Most of the routes lead in slabs and vertical walls. The difficulty varies mostly between 5b-6b, pitches are 12-24 meters long and there are 17 routes. You can see it here.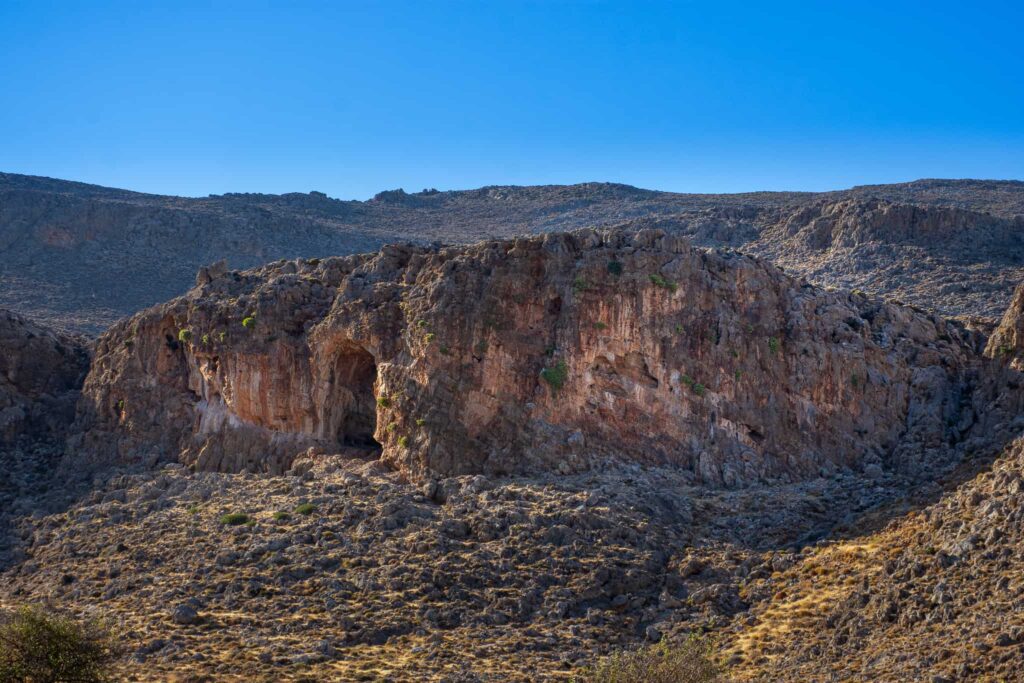 The next photos show Petr climbing the Terra Minoika route, 7a. The first part was quite a challenge.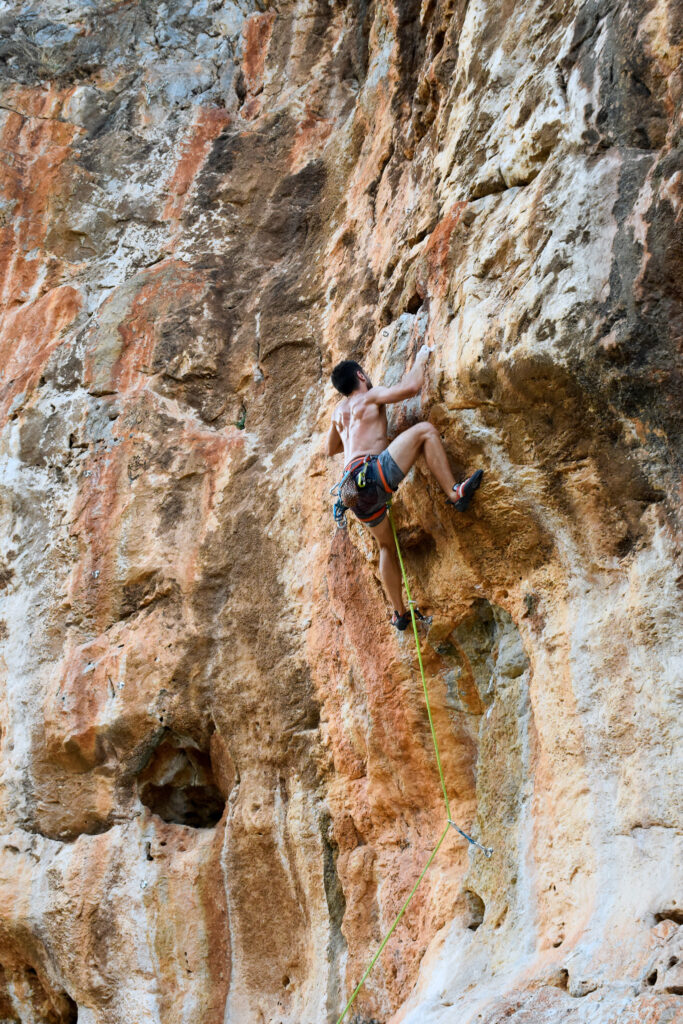 We also tested how appealing are the routes to climbing beginners. Our friend Panos seemed to enjoy them.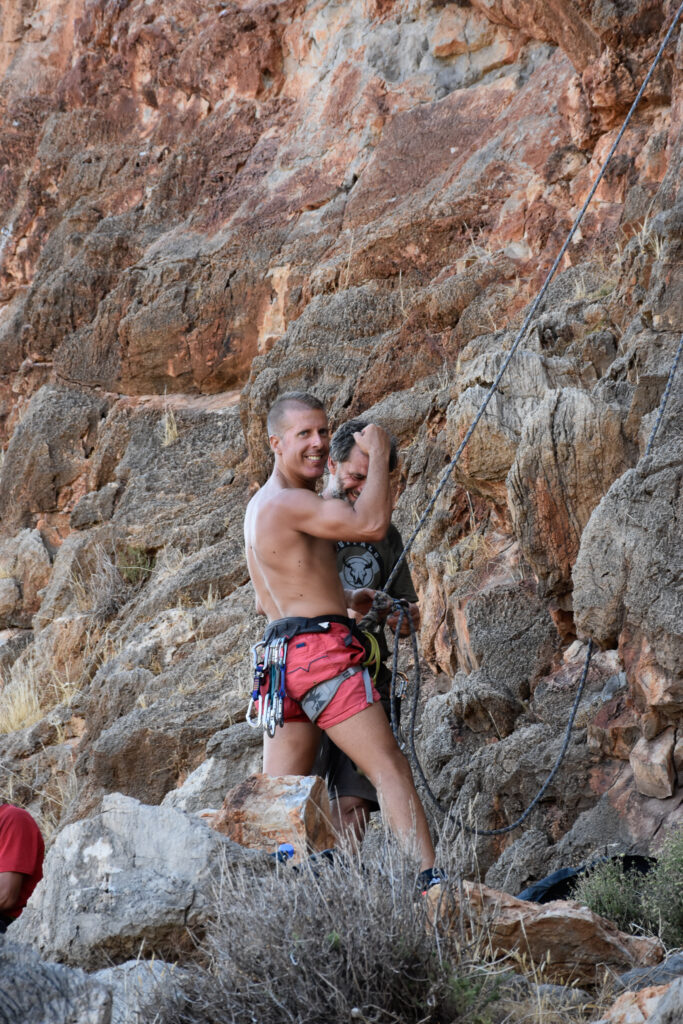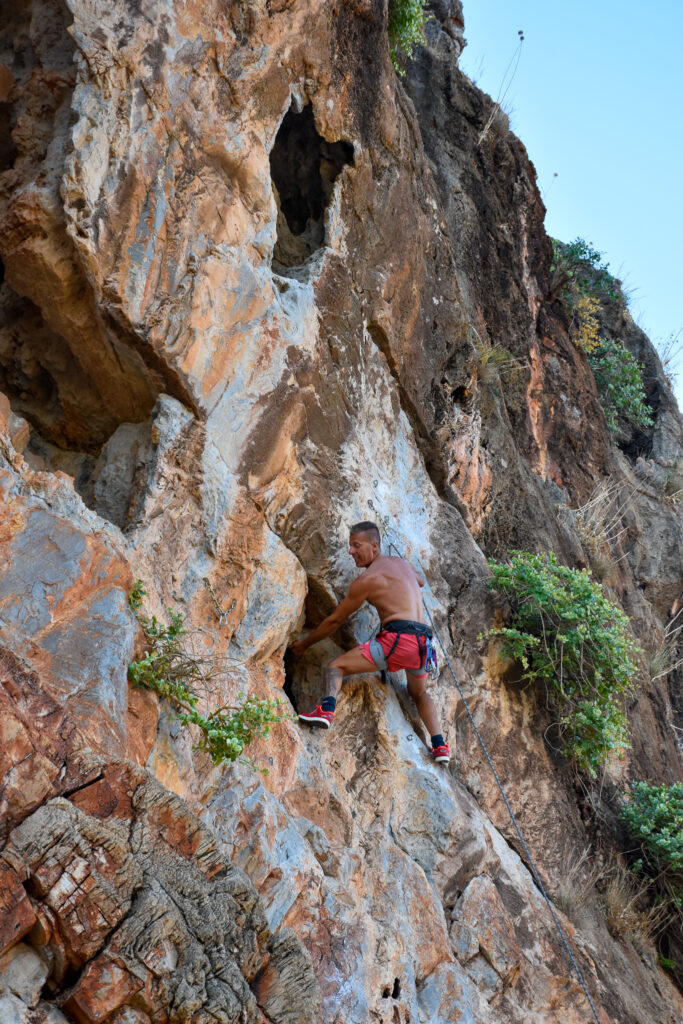 Continuation of our work
Our work in Kato Zakros and other areas is not even close to be done yet. The whole east Crete has a potential to become one of the best and the most enjoyable climbing areas in Greece. We just have to build it. Route by route, area by area. If you like what we are doing and would like to help us either with your manual work or some money to support the development, you can reach out to us here and we'll be glad to discuss it with you.
And for sure the best thing you can do is come here and try out the climbing yourself. Also, don't forget to tell your friends and climbing companions. There are at least nine canyons between the two villages of Xerokampos and Zakros, that have a climbing potential. Apart from our more than a hundred pitches done in the last three years, there is no climbing at all. You could drill routes for many years to utilize all the possibilities that mother Nature has prepared here for climbers.
It is an excellent opportunity to start from the beginning, create an entirely new tradition of climbing, to find new climbers among locals. A place where a community of likeminded adventurous people will gather. We also want to build an outdoor hub that includes not only climbing, but also mountain bikes, sea kayaks, scooters, kitesurfing, canyoning and many more. The possibilities are endless here. We want to create a spot where people are glad to meet each other, share experiences, enjoy sports and work.
So come and join the movement in the beginning!