In autumn 2019 we bought a 6400 m2 plot in a beautiful seaside village. This plot is a cornerstone of our investment project for luxurious villas in Xerokampos in the east Crete. Who's never been there wouldn't know about the magical and calm atmosphere of this place. If you've only been to the north Crete, you don't really know Crete. No offense intended, but this place is a hidden gem. 6 kilometres of smooth sand coast, breathtaking views and turquoise water. This is just a little sneak peek.
Privacy is important
Our plot is a bit secluded from other village houses, so it provides a premium privacy and nice views to the sea. The best thing about Xerokampos is a low density of buildings, which makes the village fit in the surrounding nature and olive trees. Most importantly and thanks to strict building permits the village is protected against big hotel development, thus it will always have its' unique and calm atmosphere.
Maximum building size is not a limit if you build smart.
For example, our huge plot has a permit to build 248 m2 of buildings. That's less than 4% of the whole plot size. Also, height of buildings can only be 4 meters, which means you will normally fit 1 floor there. You can imagine these laws ensure that quality of the landscape shall be preserved. We want to comply with it to the maximum.
Luxurious and comfortable
Our project consists of 5 small luxurious villas situated in the front part of the plot. Each villa will be around 50 m2 of built space and will use it to the fullest. Thanks to smart and thorough planning we are able to fit a normal size bedroom, a smaller loft bedroom, a living room with a kitchen, a standard size bathroom, spacious terraces with a summer kitchen and pools in front of the house. The usable space of each villa will be 55 m2 and it will be possible to accommodate up to 6 people. However, the standard and the most comfortable setting will be for 4 people.
At the moment, we are preparing a building permit. The villas will be both for sale and rent. Contact us for more information if you're interested.
Beautiful views everyday are a standard.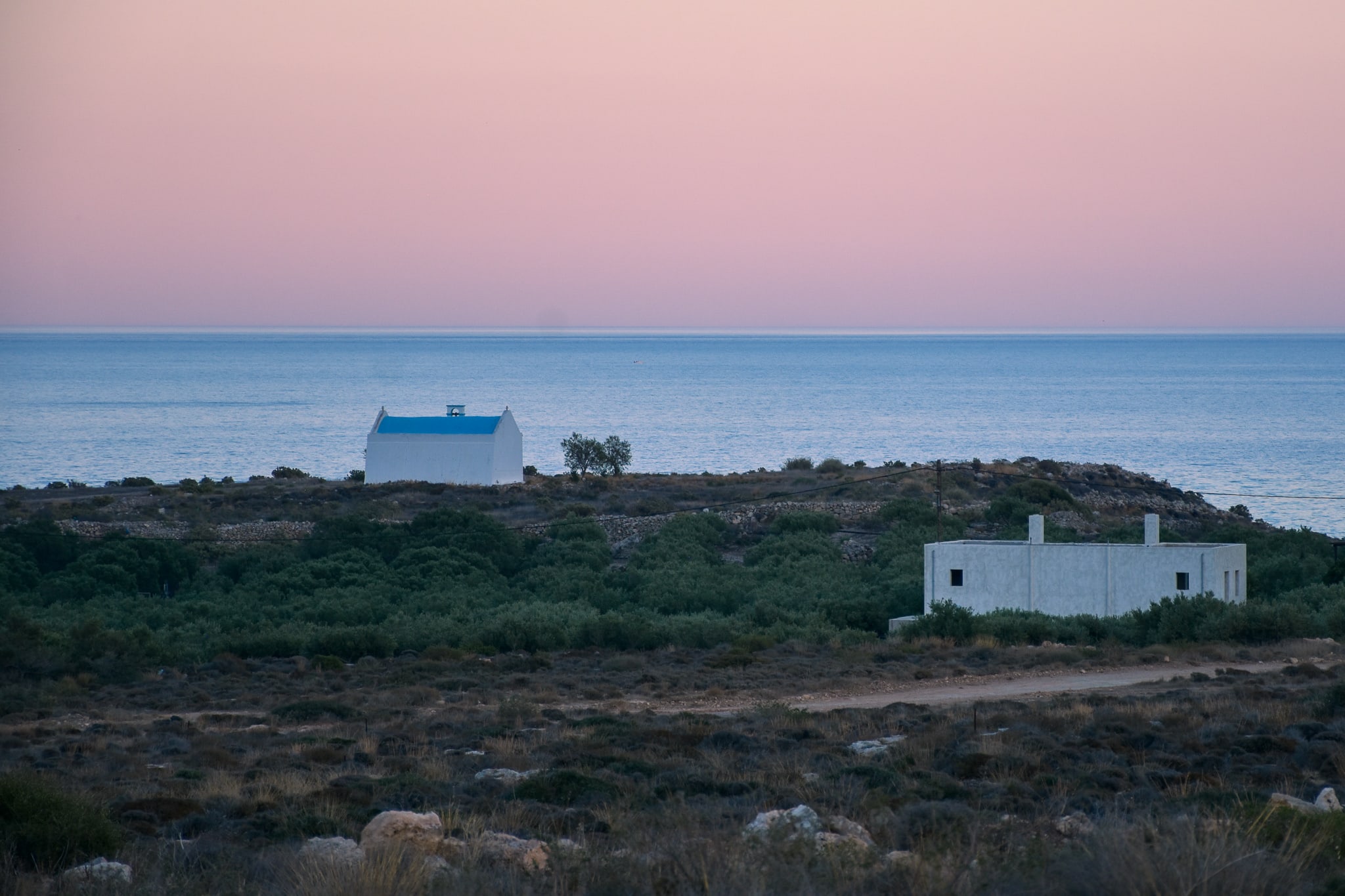 The plot offers many breathtaking views. Especially in the evening when sun sets down behind mountains in the west and the sky turns to red, orange and violet colors. At night the sky usually turns really dark with billions of shining stars and no clouds. I believe we don't have so many visible stars in central Europe, since the sky is much more polluted with light smog. And I bet you haven't seen a moon as big as there is in the east Crete. It makes incredible sceneries when it comes above the sea and still has a bit orange color from the sunset. I remember watching it from the plot just like that and I can't wait to watch it from the terrace of the villa. East Crete has more than 300 sunny days per year, so the views with a clear sky really are a standard.
Beautiful beaches everywhere
The plot is only about 7 minutes of walking to the sea in the front and right side, so you can choose to go to a different beach everyday. There are about 4 different beaches in this distance and many more if you walk a bit further. You can see some of these and other beaches here.
Homemade olive oil sounds good? The plot has many uses.
The plot has about 120 olive trees and we want to preserve as many as possible. It means that when you come for holiday, you will have a homemade olive oil right from the plot. It will also serve as an oasis to hide in before the hot summer sun.
We would also like to use a small central part of the plot for a shared relax place for evenings with friends and family. There would be enough space for bigger gatherings for everyone from the villas. If we manage to fit a sauna there for winter stays, it will make this place the ultimate all-season vacation home.
How is this project related to our climbing activities and other sports?
We are a part of the world climbing community. Our goal is to create something like a climbing hub for the east Crete. It should be a place where we come back with our families, friends and likeminded people who want to live an active and happy life. Both climbing and life are very much about belonging to a community and we believe this will help us establish one in this beautiful area.
Endless possibilities for activities also other than climbing ensure us this place has to offer something to everyone. You just need to be willing to enjoy it as it is. You won't find here any clubs, fancy beachhotels and stuff like you find in the north Crete. That's part of what makes this place so special. And whenever you have enough of activities, you can get relaxed very easily thanks to the tranquility of Xerokampos.
So if you like what we are preparing and want to be a part of this investment project for luxurious villas, contact us here.